Light Maps Series
2009

In collaboration with photographers:
Natalie Biesel & Drew McChesney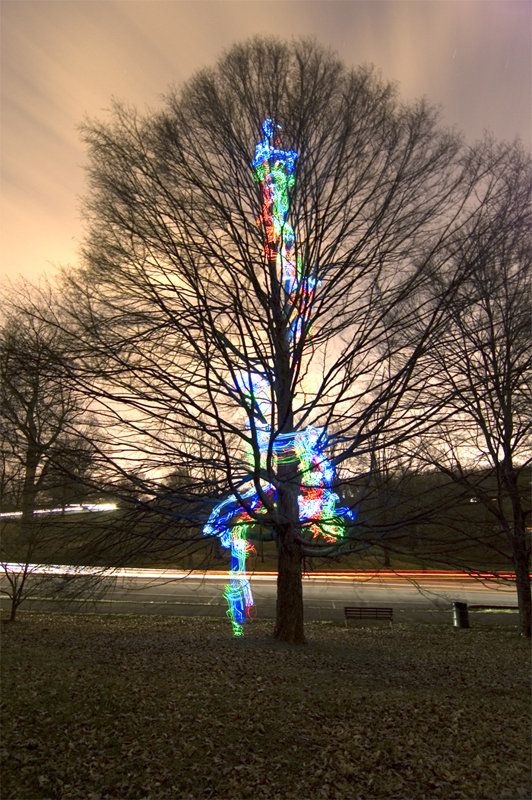 In this performative photography series I wore a custom light suit made with battery-powered LED light strands and climbed trees around parks in Louisville, Kentucky. Natalie Biesel shot long exposures with a digital camera and Drew McChesney with a medium format film camera. These long exposure photographs captured my path as I climbed through the trees. The different colors corresponded to my arms, legs and head.

All prints are dye-sublimation on aluminum and each image is printed in editions of 3. They range in size between 24" x 24" to 36" x 48".


1. George Rogers Clark Park: Cedar Spiral
March 9, 2009 (date of climb)
36"H x 22"W
SOLD OUT


2. Eva Bandman Park: Fallen Tree
March 19, 2009
22"H x 36"W
3 editions remain


3. Eva Bandman Park: Branch Bend
March 19, 2009
23"H x 24"W
SOLD OUT


4. Eva Bandman Park: Two Tree
March 19, 2009
14"H x 20"W
2 editions remain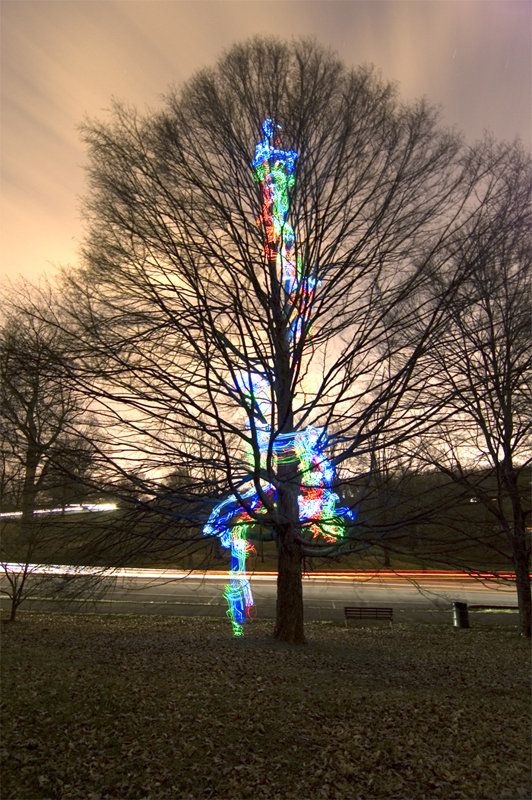 5. Cherokee Park: Bench
March 23, 2009
36"H x 24"W
SOLD OUT


6. Cherokee Park: Playground
March 23, 2009
36"H x 24"W
1 editions remain


7. Cherokee Park: Blossom
March 23, 2009
34"H x 24"W
SOLD OUT


8. George Rogers Clark Park: Long Limb
March 24, 2009
36"H x 48"W
2 editions remain


9. Cherokee Park: Cops
April 20, 2009
43"H x 29"W
SOLD OUT


10. Seneca Park: Falling Bark
July 9, 2009
20"H x 24"W
SOLD OUT

Check out the Light Maps BERNHEIM series too!
Please contact for further information