Bike Sense Louisville - public art project
2017 - 2020 (concluded July 2020)



Map - overall bike routes for Bike Sense Louisville project



BikeSense.net - Project site including data visualizations, sound & info

Bike Sense Louisville is a public art project centered around bicycle use in greater Louisville, Kentucky. Sensor units were given to 100 Louisville cyclists (the Citizen Cyclist Volunteers) and their location, air quality and temperature data was translated into sound that played on speakers on Louisville's pedestrian Big Four Bridge. The resulting data-set is open to the public and provided to Metro Louisville Government at the end of the project to help in developing further improvements in bike infrastructure and planning. It can also be found at the Louisville Data Commons for download and review.




This project corresponds to Louisville's ambitious 20-year multi-modal Move Louisville plan:

[The plan] takes a holistic approach to the city's
transportation system, which is a $5 billion asset that includes roadways, sidewalks, bike networks and trails. The top two priorities identified in the plan are fixing and maintaining the existing infrastructure and reducing the number of miles that Louisvillians drive by providing and improving mobility options.

As a citizen who wants to see this plan succeed, I wanted to create a project that could add to the conversation and hopefully expose these important issues to the public.

As an artist, I approach the subject of infrastructure and planning from a different angle. Many cities gather data through fixed sensors and phone surveys, but by adding the community involvement and creative component of art, the behind-the-scenes process gets exposed in a playful and engaging way.

The sensors in Bike Sense Louisville will collect each Citizen Cyclist Volunteer's location, temperature, and level of air quality counting VOCs (volatile organic compounds) in real-time. The idea was to get an glimpse of where bikers are going and when, all while observing tiny changes in weather and air quality throughout the city. The volunteers did not have their specific location and personal information shared during the project. Instead, the maps and sounds help illustrate general information about fluctuations in the number of cyclists on the roads and how the temperature and air quality changes across Louisville.


slideshow

The sound generated from the sensors will act like a wind chime. The more Citizen Cyclist Volunteers are on the roads, the more notes played. The tones were short when it was cold outside, and longer the warmer it got. The higher the VOC count, the more the chord would distort. A 3-note chord will represent one cyclist and the notes were randomly selected so that each sensor was unique. So like a wind chime is louder and rings more frequently the stronger the wind, the Bike Sense sound was more complex when there were more Citizen Cyclist Volunteers on the roads and trails.



Visit bikesense.net to see our data in maps and charts, hear what it sounded like, and more.

An abstract about Bike Sense was submitted, accepted and presented at the American Geophysical Union's Fall Meeting 2020 as an eLightning Poster in the Science and Society category.

Also participated in the CitSciVirtual Conference May 2021 in the Environmental Justice Poster Session. Poster:

slideshow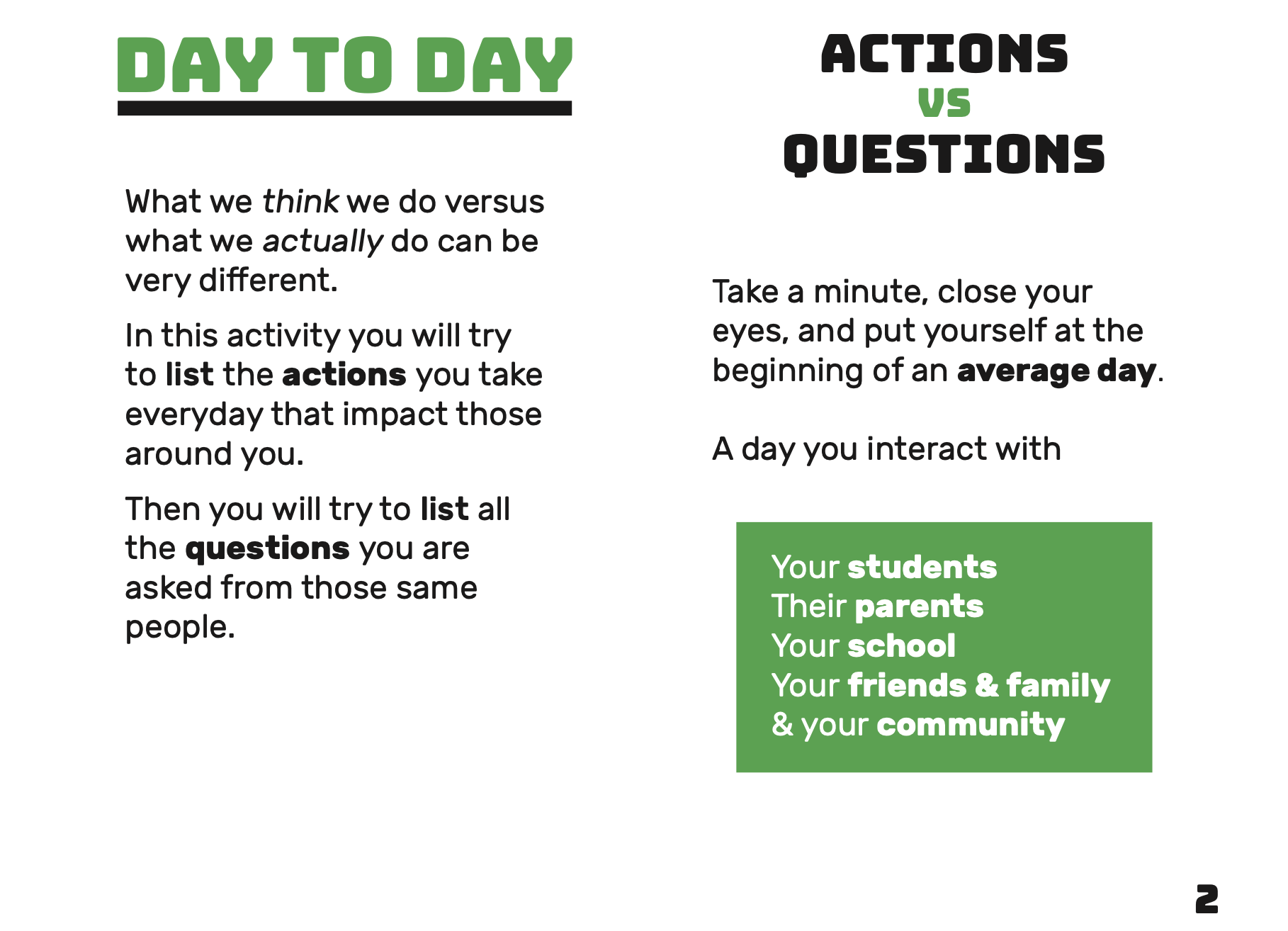 WholeCommunityKY is a digital platform focused on the cultural drivers of trust, hope, and belonging with active and retired teachers in Jefferson County and Breathitt County, Kentucky.

Together, through an arts-engagement designed by Todd C. Smith and the site's Action Groups, we will examine the actions and questions that active and retired teachers experience in their everyday lives, and facilitates connections and group discussions. This will include looking at the belonging of participants, and conclude with recommendations about how we best move forward as a community in support of, and in partnership with, our teachers.

Many organizations have come together to make the initiative possible. IDEAS xLab is working with the University of Louisville's Center for Creative Placehealing and Center for Health Organization Transformation, both based in the UofL School of Public Health & Information Sciences (UofL SPHIS). UofL SPHIS faculty and students will also be involved, providing research support and a four-day public health training boot camp.

WholeCommunityKY and the Kentucky Artist Innovator in Health Residency are made possible with support from the National Endowment for the Arts and a County Health Rankings & Roadmaps Community Collaborative Learning Fund award.

This website was developed with support from the Public Health Department of Garrett County in Maryland, as an adaptation of their Universal Community Planning Tool (UCPT).

Diverse Ground
ProjectHEAL - Hero+Shero Journey
January 2018

Diverse Ground - A Creative Science Project

A collaboration with IDEAS xLab and Chris Rasheed, a 6th grade language arts teacher at Meyzeek Middle School in Louisville, Kentucky.

The 10-day workshop covered the history of the Smoketown Neighborhood, soil science and comparative experiment, environmental justice discussion, and poetry writing exercise to turn their newfound knowledge into art.

After learning about the importance of their school neighborhood as historically black and formerly filled with brick factories, the students dug up soil samples in the school yard and in a community garden across the street. In groups, the students dilluted each soil sample with water to discover the constituent parts and make conclusions and connections about the environment, social justice, and more.

Then the students were guided through a poetry writing workshop that helped them turn their knowledge into metaphors and similes to construct short poems. These poems were then performed on the final day in a Poetry Slam.




Project HEAL - Hero+Shero Journey is a four-part artist residency. Diverse Ground is the soil component of the air, water and soil environmental justice initiative. The fourth and final portion of the project was a comic book/policy initiative created by the 150 6th grade students at Meyzeek.

The soil science part of the project was advised by Kurt Mason, Lead District Conservationist for the Natural Resources Conservation Service of Kentucky, ho helped with the scope and intent of the project.




Background of Project Concept

(from the Project HEAL Health Impact Assessment)

"Hero+Shero Journeys (JOURNEYS) will explore the potential for combining the
power of community with art, data science, mythology and storytelling to engage 6-
8th graders, at Smoketown's Meyzeek Middle School, in co-creating projects with
neighborhood leaders that can positively impact environmental health and social
determinants. The project will be led by spoken-word artist Chris Rasheed, a
teacher at Meyzeek Middle School. Ultimately, the project should demonstrate the
potential for turning middle schools across the US into cultural hubs for civic
innovation in health policy and give youth an increasing role in policy making
through the arts. The projects will focus on the 1,100 6th-8th graders who attend
Smoketown's Meyzeek Middle School, and their families.
JOURNEYS will create an in class / out of class artist residency program that
engages artists and their artistic practices to raise awareness around
environmental health justice, and to teach science, technology, engineering and
math (STEM) subjects. Students will create their own Hero+Shero journey.
Through this project, they will better understand how the quality of air, water and
soil impact their health and wellbeing. Furthermore, JOURNEYS will engage
students to think critically about how their collective voice could be focused to
advocate for policy change."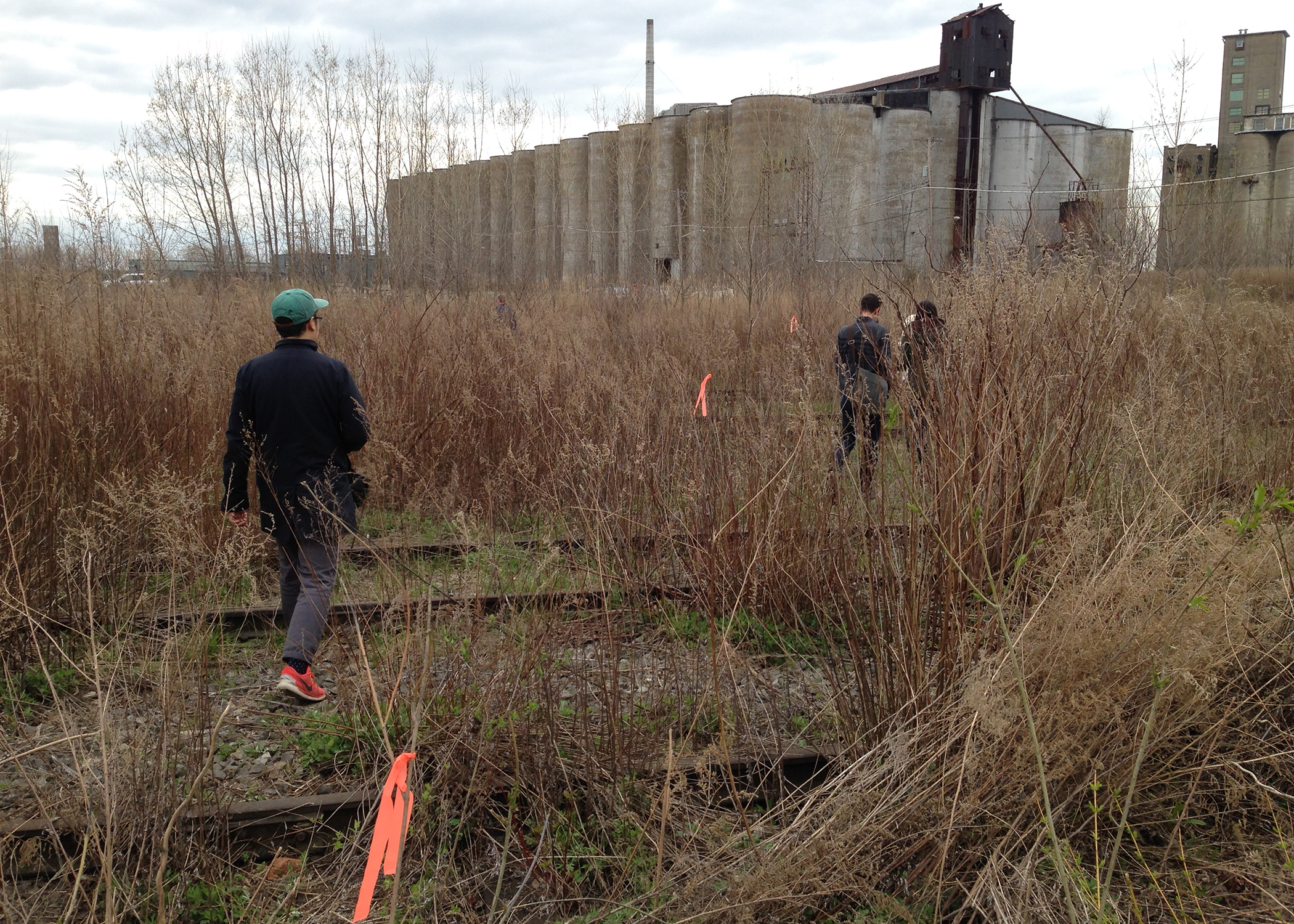 Inward Out: Spontaneous Reverberations
2016

Masters Thesis exhibition
University at Buffalo, New York
Department of Art

Exhibited on April 30th 2016 at Silo City in Buffalo, NY
Sponsored by the Techné Institute with a generous grant.

Inward Out: Spontaneous Reverberations is an interactive sound and light display in an empty grain silo, a guided walk through a railway field choked with vegetation, and a culminating encounter at the oldest cottonwood tree on the property which is connected back to the silo by a tin­can telephone. This experiential artwork envelopes the audience in a series of sensorial engagements that shed light on how our social actions are entangled with an ecological network of spontaneous plants.

You are welcome to read the written part of my thesis here.

The technology portion of the the project utilized two Arduino microprocessors, an accelerometer, XBee radio transmitters, a 4-switch relay for the halogen flood lights, and a subwoofer.
Shot in locations around Louisville, Kentucky on March 18-19th

Christian Anderson - traceur

printed on aluminum, editions of 3
all are 24" x 5" or 6"




Conic Sections

1. Wall Walk      24" H x 6" W

2. Tools for Success      24" H x 6" W

3. Loading Dock      24" H x 5" W

4. Building Physics      24" H x 6" W

5. Field Hole      24" H x 5" W

6. Spiral Tower      24" H x 5" W

7. Hotel      24" H x 6" W

8. Belle Rail      24" H x 5" W

9. Water Tower      24" H x 5" W

10. Gas Lamp      24" H x 5" W

11. Arch      24" H x 6" W

12. Under Case      24" H x 5" W




Exhibited in Summer 2016 at Zephyr Gallery
Re: Place

Keith Benjamin
Mark DeJong
Tracy Featherstone
Mark Harris
Catherine Richards
Vincent Sansalone
The Unsanctioned Sign Company
Todd Smith

June 3 - August 21, 2016